The war for the best protein bar is a war that has raged for centuries it seems (read that, years) and many sacrifices have been made (read that, amounts of flavor or nutrition) in order to get the best rectangle slab of muscle building technology on the go. There are the overdosed in sugar (Cliff Builders) and there are the bland (although not plant-based, the original power bar is straight blasphemous when it comes to being interesting). So when we get a chance to shove a new one in our pie-holes, we jump like a Pointer Sister towards it. For your love.
With our recent trip to the Portland Vegfest, which was well documented of course, we had the chance to put three to the ultimate test. What you are about to read is a dramatization. The people involved are actors, and only playing real people.
HEALTH WARRIOR CHIA PROTEIN
Makers of the original Chia Bar, Health Warrior of course is famous for slaying the mighty Whey Protein Dragon of Chestershire Hills, or so we've been told. After this imaginary scenario, we forward to modern day where Chia Bars have been used by endurance athletes the world over due to the magic of the Chia Seed and it's amazing health bennies (which is not like a friend with bennies, you should know the difference). So now that Health Warrior has thrown their hat into the Protein Bar rap game, other sucka MC's should take notice. All the stuff you love about the original Chia Bar is still inside, but add in 10 quality grams of Pea Protein and you've been hit in the mouth with a delicious wild pitch. No cholesterol, low sodium and only carbs intended for quick glycogen replacement, and you have a real food friend waiting to be taken and ravaged. Soy Free, Dairy Free, Gluten Free and more Vegan than Ellen ever was. Our opinion is Health Warrior scores big on their first stab at a protein bar. And a variety of tasty options, in which we raise the roof for the Peanut Butter and CACAO! POW! Well done.
MANITOBA HARVEST HEMP HEART BAR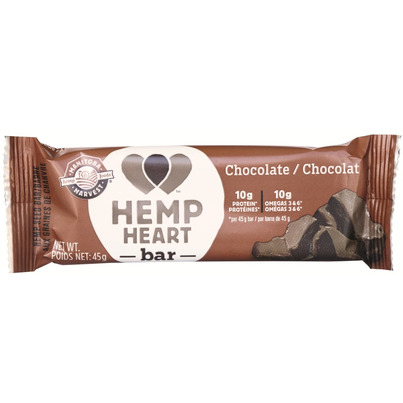 From the makers of some of the cleanest protein this side of the Solar System, Hemp Heart Bar is the alpha and the omega, packing not only 10 grams of super insane hemp protein (which is the best ever yo!) but 10 grams of omega 3 & 6. Who else does that? CRAZY PEOPLE THAT'S WHO. The fat content is of the healthy kind, and the carb count is low making it ideal for a quick snack OR post weight room. Like any vegan bar, you're going to have a pretty low sodium count and minimal ingredients so you don't have to worry about your body freaking out on your like Christain Bale during a retake. And unless you've been living in a box, living in a cardboard box, you know the health benefits of hemp protein are unchallenged. The reigning king of hemp protein strikes again. High kick to the taste buds and you're on the mat like someone named Ronda.
22 DAYS NUTRITION PROTEIN BAR
If you could put Deathcore into a bar, this would be it. Dense and thick, this is a high calorite meal replacement intended for those looking to stack some calories. As to where our other two bars reviewed were around 200 calories, 22 Days says "just bring it!" and gives you 290 calories of plant based power. We're talking 10 total ingredients to make this here bar and ZERO sodium. That's right. None. And 20 grams of high quality protein blended with dates agave syrup and other dense superfoods. You eat this and you'll be ready to break into government labs and free ALL THE ANIMALS. Or bench press a cow. Or do long division. This works great as a travel bar when you need solid nutrition to keep those biceps all jacked up for the ladies or other reasons not related to ego feeding. The bar is awesome and the PB Chocolate Nirvana ain't no negative creep, I mean it doesn't taste like Teen Spirit…oh Nevermind. Find the bar and buy the bar!
WINNER: YOU
Each bar has a delicious taste, all it's own. And the nutritional profile is awesome and can suit everyone and every need on any given day. So we'd like to thank the fine folks from the Vegfest for hooking us up and you should find all the bars and try them all. Because they're clean, tasty and ready to rebuild you to make you faster, stronger, better, more attractive to the opposite sex.
https://www.22daysnutrition.com/
http://manitobaharvest.com/
http://www.healthwarrior.com/